ENVY CHEER



21 Prestige Circle #100
Allen, TX. 75002
214.383.0000
High School Tryout Clinics $20 each
February 13th 1-3pm
February 27th 1-3pm
March 3rd 7:30-9:30pm
Middle School Tryout Clinics $20 each
March 15th 7:30-9:30pm
March 17th 7:30-9:30pm

Book your next Birthday Party with us!!!!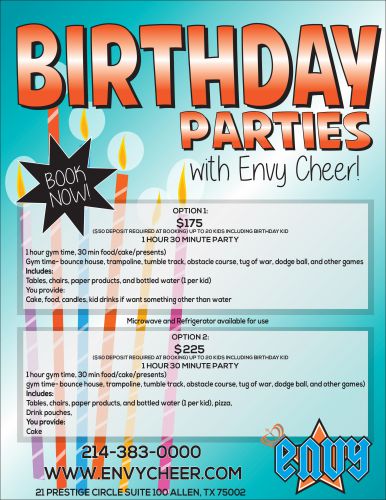 ---
Come visit us in our BRAND NEW Facility!!!
Located in the heart of Allen, Texas

9,000 Sq. Ft. Facility

Our gym is equipped with two full size competition, spring floors

60 Ft. Rod Floor

30 Ft. Tumble Track

Parent/Viewing Area

Multiple training tools to help athletes master their skills

Monthly open gyms
---
Competition Results 2013-2014
ASC National and Grand National Champions

ACA National Champions Summit bid winners

Cheer Power National Champions Grand Champions

CGA National Champions and Grand Champions

NCA Top 2 teams

DCC National Champions and Grand Champions

Amazing Full Paid Bid Winners

Summit- 2nd Place Senior 5 Restricted
---
Come be part of a true family where every child is a star. Serving the cheer and tumble needs of Allen, Plano, Wylie, Murphy, Richardson, and Dallas!!! Named "Best in Plano" by D Magazine.
Mission Statement: At Envy Cheer we strive on building the future of tomorrow one athlete at a time. We believe in teaching commitment, hard work, dedication, perseverance, and fun in a clean safe environment by highly trained adults.